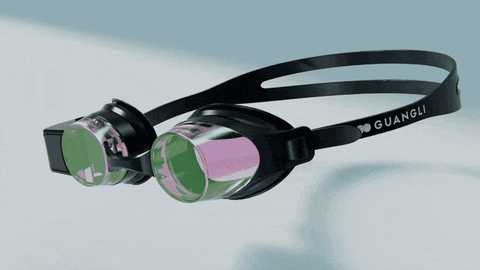 Swimming is one of those sports in which stopping to check a smartwatch can be quite disruptive for your training. Due to this, a recently announced smart swim goggles, known as Holoswim, hit the market. Backed by the most advanced AR technology, Holoswim goggles are assessed as the best swimming goggles so far which are mainly designed for performance-tracking, triathlon training, and fitness purposes for adult swimmers.
What is Holoswim Goggles?
Developed by Guangli, Holoswim goggles have an OLED holographic display as well as AR diffractive optical waveguide which show real-time swimming data in your field of vision. The goggles can assist you with the real-time metrics and workout plans to make swimming enjoyable. We have evaluated comparable tech as well as it needs to be tried out to appreciate exactly how hassle-free it is for checking your swim performance. The goggles offer swimmers a brand-new vision of the future swimming experience.
Why Choose Holoswim Goggles?
The Holoswim setup consists of a relatively normal-looking collection of swim goggles with a water-proof electronic devices component on one side, which is paired to a specialized iOS/Android application on the wearer's smart device. Users start by using the application to develop a training program by themselves to adhere to. An IMU (inertial dimension tool) in the goggles' component subsequently tracks their activities as they swim.
An OLED holographic display in the module-side lens is thus able to show real-time data such as total swim distance, number of strokes, number of laps, 100-meter stroke pace, and complete elapsed time. The goggles can also immediately spot the type of your stroke (for breaststroke, butterfly, backstroke as well as freestyle).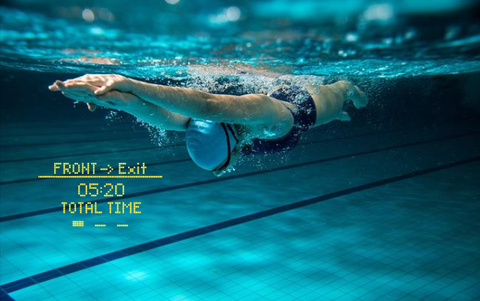 Users can change in between display screens by pressing a physical pushbutton on the module. And after each training session, they can assess their performance on the app. Swimmers can also share the swimming data, follow, or compete with their friends, which makes the swimming activity more enjoyable.


Additionally, because the goggles are linked to the user's poolside phone via Bluetooth, the display will alert them to incoming calls – this function only works within a range of 5 meters (16 ft) if the goggles are underwater, however. Plus, of course, the user still has to make their way over to their phone in order to take the call.


Battery life is outstanding. Not only it supports magnetic charge, but a full charge of the battery will also certainly keep whatever costing around 10 hours. That's around 500 lengths of a 50-meter pool for an ordinary swimmer in case you were asking yourself. "An Olympic-sized pool is 50 meters (164 feet) in length. Suppose it takes 30-35 seconds to swim from one side to the various other. Holoswim's battery can last for greater than 10 hours/36,000 secs, which suffices to support more than 500 round trips!"


Comfortable, Durable, and Lightweight
Holoswim lenses can be easily switched to left or right viewing mode. Prescription lenses are available at additional costs. The whole body is only 75g and the materials are durable for repeat uses, and resin material used on the goggles can withstand accidental drops.

Available in four colors, the Holoswim goggles are made of comfortable silicone and feature an adjustable band. Exchangeable nose bridges are also included in the box. They fit both men and women of all ages, adults, or children. The goggles have an IPX8 ranking (down to 5 meters), making them suitable for both interior and outside use, in swimming pools and open waters.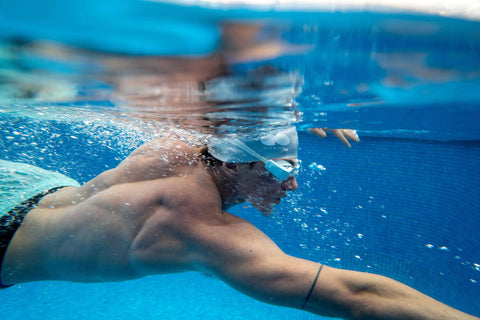 In case you wonder, $179 (currently on sale for $149) is what it costs to get a set of Holoswim goggles delivered to your doorstep, and it comes with 30-day return policy and one-year limited warranty. Just visit GUANGLI to make your purchase.